Todoist can remind you about upcoming tasks via email or mobile text message. With task reminders, you'll never forget about an important meeting — or your favorite TV show.
Setting up your reminder services
Go to Settings – Reminders to configure reminders for your tasks.
Automatic reminders for tasks with deadlines
Todoist creates automatic reminders for tasks that have a due date and associated time. For example: if your task is due today @ 10am, Todoist will automatically send a reminder 30 minutes before this deadline.
Setting reminders manually
It's easy to manually set and manage reminders. To do this, simply:
Open a task's menu by clicking on the menu icon ().
Click Reminders menu item to open up a window where you can manage your task's reminders.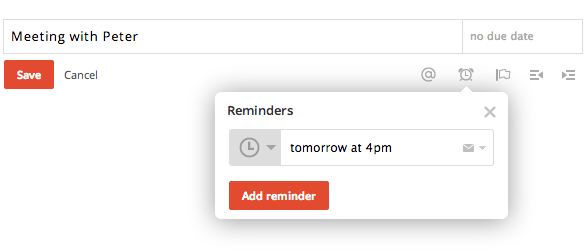 Location-aware reminders
Todoist users can now create task reminders that, instead of triggering on a specific day or time, will trigger when entering or leaving a specific location.
Location-aware reminders can be managed from any platform (including Gmail or Outlook), but they will only trigger on-the-go when using Todoist on iOS or Android devices. To activate location-aware reminders in iOS, tap Settings > Privacy > Location Services and turn on Location Services and Reminders. On Android, everything is setup automatically.