Todoist Karma is a visual tracking system that monitors your task management activities and displays your productivity trends. It allows you to see your progress and challenge yourself to achieve greater productivity.
View your Todoist Karma score and trends
To view your Todoist Karma, click the number (your Karma score) at the top right of your home Todoist screen. You can see whether your productivity is trending up or down with a chart that shows the Karma points you've earned, the total number of tasks completed, your daily productivity level, and your weekly trend.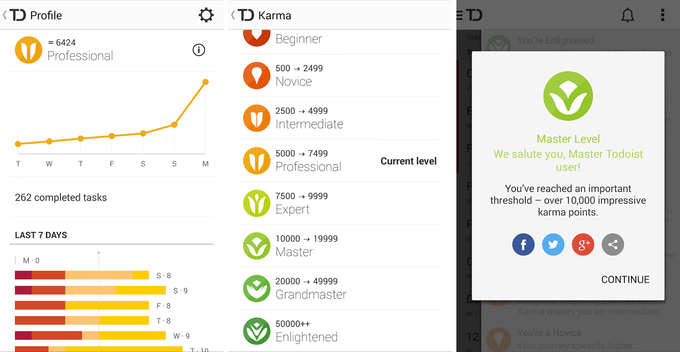 Levels of Todoist Karma
The more points you earn, the higher your Karma level rises. There are currently eight Todoist Karma levels:
Beginner: 0–499,
Novice: 500–2499,
Intermediate: 2,500–4,999,
Professional: 5,000–7,499,
Expert: 7,500–9,999,
Master: 10,000–19,999,
Grandmaster: 20,000–49,999,
Enlightened: 50,000 and above.
Related FAQ articles: